Coordinated Site Network for Studying the Impacts of 4R Nutrient Management on Crop Production and Nutrient Loss (Nutri-Net Project)
Limited research data linking agronomic and environmental performance of 4R practices across a wide variety of conditions is a critical research gap leading to high uncertainty regarding practice efficacy for both farmers and environmental program and policy decision makers. Along with production and soil health effects, full accounting of the multiple forms and pathways of nitrogen (N) and phosphorus (P) is essential to understand the environmental consequences of current and advanced best nutrient practices.Our objective is to quantify the impact of 4R Nutrient Stewardship on crop yield, soil health, nutrient use efficiencies, nutrient losses with leaching, and gaseous nitrogen losses across a network of coordinated studies in the major corn producing area of North America.
PIs: Matthew Helmers (Iowa State University, Lead PI); Sylvie Brouder and Jeff Volenec (Purdue); Laura Christianson, Cameron Pittelkow, and Lowell Gentry (UIUC); Dan Jaynes and Jon Kovar (USDA ARS);  Kelly Nelson (University of Missouri); Craig Drury (Agriculture and Agri-foods Canada); Fabian Fernandez (University of Minnesota); Alison Eagle (Environmental Defense Fund)
Transformative Soil Health Measures for Resilient 21st Century Illinois Agriculture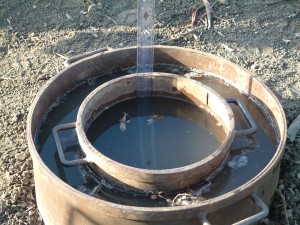 In 2017, the Soil Health Institute released a "Tier 1: list of recommended soil health measures". Three of the nineteen Tier 1 soil health metrics are directly related to water and its movement through soil: infiltration rate, water holding capacity, and bulk density. Looking to potentially increased variability of dry and wet years in the future, these water-related soil health metrics will continue to increase in importance for producers. The major goal of this work is to evaluate differences in water-related soil health metrics within multiple types of Illinois agricultural systems (e.g., row cropped and pasture-based) being demonstrated at the Dudley Smith Farm.
Co-PI: Dr. Paul Davidson, Biological & Agricultural Engineering, and Dr. Nathan Schroeder, Department of Crop Sciences, University of Illinois (Dr. R. Christianson, Lead PI)
Reducing P Loss in Southern Illinois: Producers, Practices, and Productivity
Illinois is typically the largest contributor of phosphorus (P) to the Gulf of Mexico, contributing approximately 13% of the total load. While a significant portion of this P load comes from point sources like wastewater treatment plants, the agricultural sector also contributes (both ≈48%). Moreover, nearly 500 waterbodies in Illinois are impaired by P. The major goal of this work is to evaluate, refine, and promote both recommended and novel practices to reduce P losses in unglaciated areas of Illinois. The practices of no-till/conservation tillage, cover crops, and edge-of-field P filters will be evaluated through on-campus laboratory studies, field studies on private farms, and a new experimental set-up at the University of Illinois Extension Ewing Demonstration Center in Southern Illinois.
Co-PI: Drs. Andrew Margenot and Laura Christianson, Department of Crop Science, University of Illinois; Dr. Talon Becker, University of Illinois Extension (Dr. R. Christianson, Lead PI)