Transformative Soil Health Measures for Resilient 21st Century Illinois Agriculture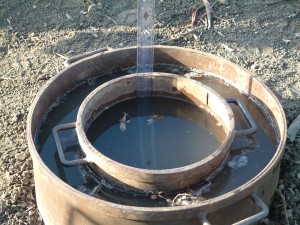 In 2017, the Soil Health Institute released a "Tier 1: list of recommended soil health measures". Three of the nineteen Tier 1 soil health metrics are directly related to water and its movement through soil: infiltration rate, water holding capacity, and bulk density. Looking to potentially increased variability of dry and wet years in the future, these water-related soil health metrics will continue to increase in importance for producers. The major goal of this work is to evaluate differences in water-related soil health metrics within multiple types of Illinois agricultural systems (e.g., row cropped and pasture-based) being demonstrated at the Dudley Smith Farm.
Co-PI: Dr. Paul Davidson, Biological & Agricultural Engineering, and Dr. Nathan Schroeder, Department of Crop Sciences, University of Illinois (Dr. R. Christianson, Lead PI)
Reducing P Loss in Southern Illinois: Producers, Practices, and Productivity
Illinois is typically the largest contributor of phosphorus (P) to the Gulf of Mexico, contributing approximately 13% of the total load. While a significant portion of this P load comes from point sources like wastewater treatment plants, the agricultural sector also contributes (both ≈48%). Moreover, nearly 500 waterbodies in Illinois are impaired by P. The major goal of this work is to evaluate, refine, and promote both recommended and novel practices to reduce P losses in unglaciated areas of Illinois. The practices of no-till/conservation tillage, cover crops, and edge-of-field P filters will be evaluated through on-campus laboratory studies, field studies on private farms, and a new experimental set-up at the University of Illinois Extension Ewing Demonstration Center in Southern Illinois.
Co-PI: Drs. Andrew Margenot and Laura Christianson, Department of Crop Science, University of Illinois; Dr. Talon Becker, University of Illinois Extension (Dr. R. Christianson, Lead PI)