Drainage water management and saturated buffers for achieving Illinois Nutrient Loss Reduction Strategy goals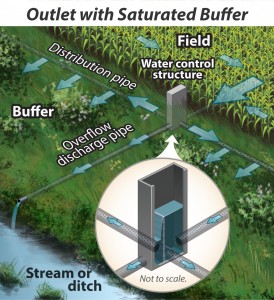 Agricultural producers farming the 9.7 million acres of tile-drained land in Illinois need a wide variety of proven options to reduce nitrogen loss. Two practices that may reduce tile drainage N loss, but are not in the Illinois Nutrient Loss Reduction Strategy, are drainage water management (or, controlled drainage) and saturated buffers. The goal of this work is to evaluate N loss reduction provided by these two practices to assess their potential inclusion as recommended practices in Illinois.
Co-PIs: Drs. Richard Cooke and Paul Davidson, Biological & Agricultural Engineering, University of Illinois (L. Christianson, Lead PI)
Balancing water quality and nutrient management goals for the sustainable intensification of corn systems
The recently released Illinois Nutrient Loss Reduction Strategy provides guidance on suggested conservation practices to improve agricultural water quality, but there is limited scientific evidence on the effectiveness of these practices when implemented in combination in Illinois corn production systems. We will establish a sustainable intensification research site at the University of Illinois Dudley Smith Farm with the aim of evaluating the combined effects of water quality practices on tile drainage nutrient losses, nutrient use efficiencies, and crop yields. More information is available on the project page.
Lead PI: Dr. Cameron Pittelkow, Crop Sciences, University of Illinois (Drs. L. Christianson and R. Bhattarai, Co-PIs)
Assessing synergies and tradeoffs of recommended BMPs to reduce nutrient losses
Using the newly installed drainage research infrastructure at the University of Illinois Dudley Smith Farm, we seek to answer the question: are current efforts primarily minimizing nitrate losses, but having negative impacts on crop productivity, nutrient utilization, tile drainage P losses, and/or greenhouse gas emissions? This study will provide a critical evaluation of in-field and edge-of-field practices to provide a holistic understanding of best practices for reducing nutrient losses while maintaining crop production goals.
Lead PI: Dr. Cameron Pittelkow, Crop Sciences, University of Illinois (Drs. L. Christianson and R. Bhattarai, Co-PIs)