We

Group Leaders
Laura Christianson, Ph.D., P.E. founded and co-leads I-DROP at the University of Illinois. She began her role as Research Assistant Professor of Water Quality in the Department of Crop Sciences at the University of Illinois in September 2015, and transitioned into a tenure-track Assistant Professor position in November 2016. Her research and extension program focuses on economically thriving farms and clean water outcomes. With a background in agricultural engineering, she formerly worked on the design of woodchip bioreactors for removal of nitrate from point and non-point sources as a research engineer, studied options to improve ditch drainage water quality in the Mid-Atlantic, and has done research on drained dairy pastures as a Fulbright Fellow in New Zealand. She is affiliate faculty in the Department of Agricultural and Biological Engineering, and is a licensed professional engineer in the state of Illinois. Dr. Christianson was recently featured in "A Day in the Life of a Scientist" video by the American Society of Agronomy.
Reid Christianson, P.E., Ph.D. joined the I-DROP team at the University of Illinois in May 2017 as a Research Assistant Professor in the Department of Crop Sciences. Through funding from the Walton Family Foundation, his work will initially focus on the development of a tracking framework which Mississippi River Basin states will use to report progress to the Mississippi River/Gulf of Mexico Hypoxia Task Force about their non-point source nutrient loss reductions. He has extensive water quality experience in both the Mississippi River Basin and the Chesapeake Bay watershed through his previous work on the Iowa Nutrient Reduction Strategy science assessment team and by designing and modeling urban stormwater retrofits as a water resources engineer with the Center for Watershed Protection (Ellicott City, Maryland). Dr. Christianson's Ph.D. is from Oklahoma State University in Biosystems Engineering, and he is a registered civil engineer in Illinois, Iowa, and Maryland.
Staff
Daniel Hiatt is a Water Quality Specialist who started with the group in July 2016. Daniel is an Illinois native nearing completion of a Ph.D. in Biology at Baylor University where he investigated the impacts of hydrologic processes and terrestrial-aquatic linkages on algal growth and nutrient availability in aquatic ecosystems. He holds an M.S. and B.S. in Biology from Eastern Illinois University. Within I-DROP, Daniel oversees day-to-day activities including laboratory analyses and general operations.
Brian DiDonato began working with the lab in May 2018 after completing his Bachelor of Science in Agricultural Engineering at the University of Illinois with a concentration in Biological Systems. Brian is responsible for creating technical images of the research sites and equipment. He also assists with in-field data acquisition, site maintenance, and other daily operations.
Visiting Scholars
Graduate Students
Hannah Dougherty is studying for a Master of Science in the Crop Sciences Department beginning August 2016. She graduated with a Bachelor of Science in Crop Sciences and Agriculture Consumer Economics from the University of Illinois in May 2016.  Hannah's project will focus on the denitrifying bioreactor that is part of the ACES Dudley Smith Initiative project. Hannah has been awarded a Fulbright Fellowship to study denitrifying bioreactors in New Zealand after her graduation.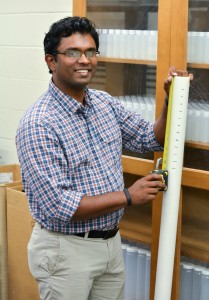 Janith Chandrasoma joined the I-DROP team at University of Illinois in June 2017 as a PhD student in the Department of Crop Sciences. His graduate research work focuses on how drainage water management (DWM) and saturated buffers help reduce nitrogen loss in agricultural drainage water. His areas of interest include soil nutrient management, biochar, and GIS. He received his M.S in Natural Resources (Soil Sciences concentration) at the University of Missouri-Columbia and his B.Sc in Agricultural Sciences and Management from Sabaragamuwa University in Sri Lanka.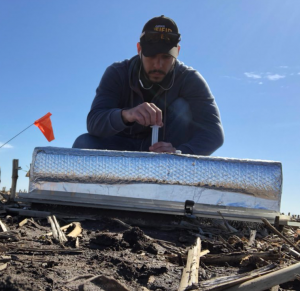 Giovani Preza Fontes started in the lab in May 2017, and is co-advised by Dr. Cameron Pittelkow. He received his B.S. in Agricultural Engineering from the Federal University of Mato Grosso in Brazil, and his M.S. in Agronomy from Kansas State University. His PhD research is focused on evaluating the agronomic and environmental impacts of cover crops and 4R nitrogen management on tile-drainage nitrate losses and soil nitrous oxide emissions in a continuous corn cropping system. His research site is the Dudley Smith farm near Pana, Illinois which aims to serve as a sustainable intensification research platform for corn production in Illinois. His areas of interest include soil fertility, precision agriculture, and crop and nutrient management practices applied to sustainable agriculture.
Ana Pa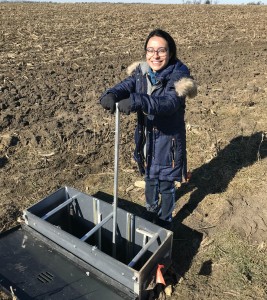 ula Sanchez Bustamante Bailon joined the I-DROP team at the University of Illinois as a visiting scholar in January 2018 after completing her B. S. in Environmental Science and Development from the Zamorano Pan-American Agricultural School in Honduras. Ana transitioned into a Masters of Science program starting in May 2018. She hails from Guatemala where she developed passion for rural environmental issues. Ana's graduate research will focus on denitrifying bioreactors around the state of Illinois.
Niranga Wickramarathne joined the I-DROP team in September 2017 as a staff researcher after completing her M.S. in Natural Resources (emphasis on water quality) at the University of Missouri-Columbia. In June 2018, she transitioned into her PhD program where she is focusing on denitrifying bioreactors. She holds a B.S in Agricultural Sciences and Management from Sabaragamuwa University in Sri Lanka and a M.S. in Crop Science from the Post Graduate Institute of Agriculture, University of Peradeniya, Sri Lanka.
Lara Seek (coming soon)…
Undergraduate Assistants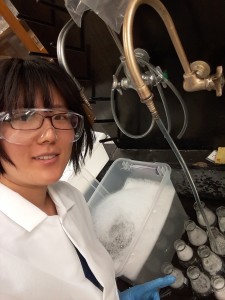 Ariel Roh, a junior studying for a Bachelor of Science in Crop Sciences, joined in the lab in February 2018. She is from Seoul, South Korea, and plans to graduate in December of 2019. Ariel is interested in agricultural water quality, and hopes to continue her studies in graduate school upon completion of her degree.
Charles Dochoff (coming soon)…
Research Advisees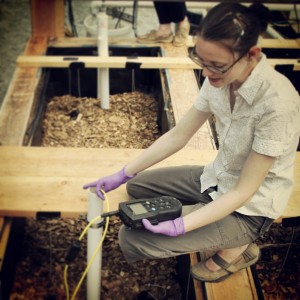 Christine Lepine is a Master of Science student at the University of Illinois at Urbana-Champaign in the Natural Resources and Environmental Sciences (NRES) program and an employee of The Conservation Fund's Freshwater Institute. She graduated from Shepherd University (Shepherdstown, West Virginia) in 2014 with a Bachelor of Science in Environmental Studies, with a concentration on natural resources management. As an undergraduate, Christine examined the use of denitrification bioreactors for treating aquacultural production wastewater. Continuing with this research for her graduate project, she is working to extend the lifespan of denitrification bioreactors given aquaculture wastewater's unique water chemistries. Dr. Robert Hudson (NRES) will also be serving on her graduate research committee.