We

Group Leader
Laura Christianson, Ph.D., P.E. founded and led the Illinois Drainage Research and Outreach Program (I-DROP lab) at the University of Illinois. She was promoted to Associate Professor with indefinite tenure in August 2022 and resigned from the University of Illinois in December 2022. With a background in agricultural engineering, she formerly worked on the design of woodchip bioreactors for removal of nitrate from point and non-point sources as a research engineer, studied options to improve ditch drainage water quality in the Mid-Atlantic, and has done research on drained dairy pastures as a Fulbright Fellow in New Zealand. She is a licensed professional engineer in the state of Illinois. Dr. Christianson was awarded the American Society of Agronomy's Environmental Quality section 2018 Inspiring Young Scientist Award and the ASABE's Larry W. Turner Young Extension Professional Award in 2020.
Staff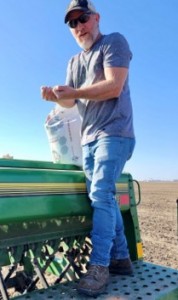 Michael Wallace oversees the I-DROP Water Quality Laboratory and assists with in-house lab operations. He joined the lab in March 2020 with more than twenty years of experience in the field of water quality and applied research in Illinois. He also provides critical field support at research sites across the state.
Postdoctoral Associates
Dr. Carolina Díaz García joined the I-DROP Lab in April 2021. She is a Civil Engineer who completed her PhD at Universidad Politécnica de Cartagena where she focused on denitrifying woodchip bioreactors for treatment of saline agricultural effluents and brine. Dr. Díaz García helps lead the multi-state NRCS Conservation Innovation Grant focused on bioreactors and saturated buffers.
Visiting Scholars
Graduate Students
Undergraduate Assistants