We

Group Leaders
Laura Christianson, Ph.D., P.E. founded and co-leads I-DROP at the University of Illinois. Her program focuses on economically thriving farms and clean water outcomes. With a background in agricultural engineering, she formerly worked on the design of woodchip bioreactors for removal of nitrate from point and non-point sources as a research engineer, studied options to improve ditch drainage water quality in the Mid-Atlantic, and has done research on drained dairy pastures as a Fulbright Fellow in New Zealand. She is affiliate faculty in the Department of Agricultural and Biological Engineering, and is a licensed professional engineer in the state of Illinois. Dr. Christianson was recently featured in "A Day in the Life of a Scientist" video by the American Society of Agronomy and was awarded the society's Environmental Quality section 2018 Inspiring Young Scientist Award. Dr. L. Christianson was honored with the ASABE's Larry W. Turner Young Extension Professional Award in 2020.
Reid Christianson, P.E., Ph.D. joined the I-DROP team at the University of Illinois in May 2017 as a Research Assistant Professor in the Department of Crop Sciences. Through funding from the Walton Family Foundation, his work will initially focus on the development of a tracking framework which Mississippi River Basin states will use to report progress to the Mississippi River/Gulf of Mexico Hypoxia Task Force about their non-point source nutrient loss reductions. He has extensive water quality experience in both the Mississippi River Basin and the Chesapeake Bay watershed through his previous work on the Iowa Nutrient Reduction Strategy science assessment team and by designing and modeling urban stormwater retrofits as a water resources engineer with the Center for Watershed Protection (Ellicott City, Maryland). Dr. R. Christianson's Ph.D. is from Oklahoma State University in Biosystems Engineering, and he is a registered civil engineer in Illinois, Iowa, and Maryland.
Staff
Ronnie Chacon began his role as I-DROP's Field Research Specialist in April 2019. He is a 2018 graduate of Zamorano University in Honduras. Ronnie is responsible for day-to-day field operations including coordinating staff and students, collecting data from field sites across the state, maintaining a wide variety of sampling equipment and data loggers, and data processing and analysis.
Michael Wallace oversees the I-DROP Water Quality Laboratory and assists with in-house lab operations. He joined the lab in March 2020 with more than twenty years of experience in the field of water quality and applied research in Illinois.
Kristin Greer is a Senior Research Specialist with emphasis on agronomy and environmental quality. She joined the I-DROP Lab in April 2020 after having worked in crop production and nutrient management research for almost twenty years. She is a University of Illinois graduate, managing field research experiments and day-to-day soils lab operations in coordination with graduate students and other lab members to ensure project goals are met in an efficient and timely manner. Outside of work, she farms approximately 600 acres of corn and soybeans with her husband. Her primary I-DROP activities involve the Dudley Smith Farm and associated projects.
Jason Kandume began providing the I-DROP Lab critical field support in spring 2020. He operates and maintains specialized field equipment and helps collect water samples and other data for our applied research. Jason is based with Dr. Rabin Bhattarai's group in the Department of Agricultural and Biological Engineering.
Postdoctoral Associates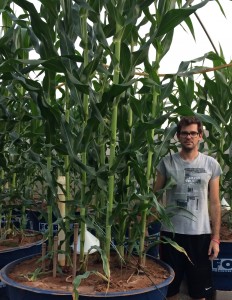 Dr. Luciano Alves has been performing research on water quality in agricultural systems for 10 years with a particular emphasis on modeling and remote sensing technologies for managing and monitoring water and the vadose zone. His current research areas are on the role of vadose zone and water resources at agricultural systems, vulnerability and risk assessments, automation, and environment, focusing on techniques of computation processing and machine learning. He has a passion for teaching, with experience in teaching middle and high school, college-prep, undergraduate, and graduate students. He started with the I-DROP Lab in May 2020.
Dr. Bryan Maxwell joined the I-DROP Lab in August 2020. He has been working with bioreactors since approximately 2015. His PhD is in Biological and Agricultural Engineering from North Carolina State University and he previously did a Post Doc at Universidad Politécnica de Cartagena (Spain) studying bioreactors for treatment of brine wastewater.
Visiting Scholars
Fernando Zucher started with the I-DROP team at the University of Illinois in April 2019 as a visiting scholar, with plans to return in 2021 to continue his investigations. He is an undergraduate student at UFMT – Universidade Federal do Mato Grosso in Brazil.  During his time in college, he was able to help develop research about: Efficiency of Storage Methods of Aroeira do Sertão (Myracrodruon urundeuva) and the Effect on Physiological Quality and Initial Growth of Seedlings. For his monography, he carried out a qualitative evaluation of pineapple cv. Pérola.
Graduate Students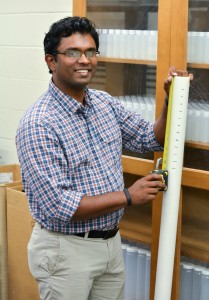 Janith Chandrasoma joined the I-DROP team at University of Illinois in June 2017 as a PhD student in the Department of Crop Sciences. His graduate research work focuses on how drainage water management (DWM) and saturated buffers help reduce nitrogen loss in agricultural drainage water. His areas of interest include soil nutrient management, biochar, and GIS. He received his M.S in Natural Resources (Soil Sciences concentration) at the University of Missouri-Columbia and his B.Sc in Agricultural Sciences and Management from Sabaragamuwa University in Sri Lanka.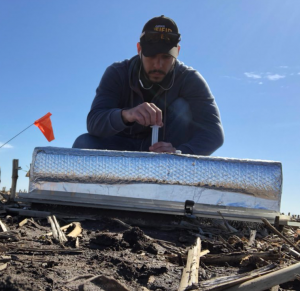 Giovani Preza Fontes started in the lab in May 2017, and is co-advised by Dr. Cameron Pittelkow (UC Davis). He received his B.S. in Agricultural Engineering from the Federal University of Mato Grosso in Brazil, and his M.S. in Agronomy from Kansas State University. His PhD research is focused on evaluating the agronomic and environmental impacts of cover crops and 4R nitrogen management on tile-drainage nitrate losses and soil nitrous oxide emissions in a continuous corn cropping system. His research site is the Dudley Smith farm near Pana, Illinois which aims to serve as a sustainable intensification research platform for corn production in Illinois. His areas of interest include soil fertility, precision agriculture, and crop and nutrient management practices applied to sustainable agriculture.
Niranga Wickramarathne joined the I-DROP team in September 2017 as a staff researcher after completing her M.S. in Natural Resources (emphasis on water quality) at the University of Missouri-Columbia. In June 2018, she transitioned into her PhD program where she is focusing on denitrifying bioreactors. She holds a B.S in Agricultural Sciences and Management from Sabaragamuwa University in Sri Lanka and a M.S. in Crop Science from the Post Graduate Institute of Agriculture, University of Peradeniya, Sri Lanka. Niranga served as the teaching assistant for the initial offering of Dr. L. Christianson's CPSC 417: Water and Agriculture in the 21st Century.
Mary Foltz started working with the I-DROP team in July 2018 and is advised by Dr. Julie Zilles and Dr. Jeremy Guest. She received her B.S. in Environmental Science from Indiana University Bloomington in 2014 before teaching high school science for one year. She holds an M.S. in Environmental Engineering from the University of Illinois at Urbana-Champaign (2017) and is working toward a Ph.D. in the same field. Her research involves nitrogen cycling in agriculture with a focus on nitrous oxide emissions from conservation practices like bioreactors and wetlands. She is funded by a USDA NIFA Pre-Doctoral Fellowship and recently received an Illinois Water Resources Center grant to answer additional questions about bioreactor N-removal processes.
Gabe Johnson, EIT, joined the I-DROP team in June 2019 as an M.S. student in the Department of Agricultural and Biological Engineering. He received his B.S. in Agricultural Engineering (summa cum laude) focusing on Land and Water Resources from Iowa State University in May 2019 with an Agronomy minor. His Honors Program capstone project evaluated the adoption of best management practices in Iowa. Within IDROP, Gabe's work will focus on parameterizing physical properties of woodchips used in denitrifying bioreactors with the goal of improving bioreactor design and performance. His other interests include sustainable and regenerative agriculture, soil health, and increasing implementation of best management practices in the Midwest.
Ariana Muñoz began working with I-DROP in September 2018 as a visiting scholar after finishing an internship on soil microbiology and cover crops at Louisiana State University. Ariana transitioned into a graduate student assistantship in Jan 2020. She graduated from Zamorano University in Honduras, where she obtained her B.S. in Environmental Sciences and Development in 2017. Ariana's work focuses on cover crops and phosphorous loss under freeze/thaw conditions.
Annie Brunton joined the I-DROP Lab in August 2020 as a MS student in Agricultural and Biological Engineering and is co-advised by Dr. Richard Cooke. She graduated with honors from the University of Arizona with a B.S. in biosystems engineering and minors in mechanical engineering, mathematics, and Spanish. She will be researching heating bioreactors to improve their nitrate removal performance. She was selected for the American Water Works Association's Woodard and Curran 2020-2021 scholarship for master's students in the field of water resources. Annie is passionate about water resources and sustainability.
Undergraduate Assistants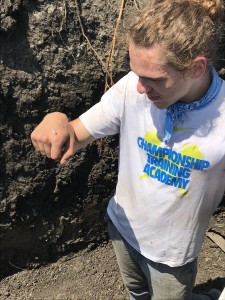 Charles Dochoff is an undergraduate in the Agricultural and Biological Engineering program at the University of Illinois who joined I-DROP during summer 2018. He is assisting with lab and field activities, as well as creating custom CAD images to better communicate our work.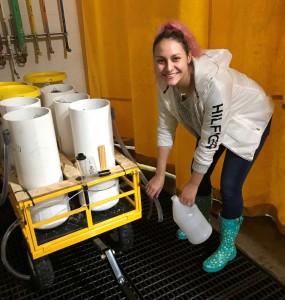 Jazmine Rodriguez joined the I-DROP Lab in January 2019 and helps with key processes pertaining to quality control of our water samples. She is a 2018 graduate of Oakwood High School. She is pursuing a Psychology degree at the University of Illinois.