We

Group Leader
Laura Christianson, Ph.D., P.E. founded and co-leads the Illinois Drainage Research and Outreach Program (I-DROP lab) at the University of Illinois. With a background in agricultural engineering, she formerly worked on the design of woodchip bioreactors for removal of nitrate from point and non-point sources as a research engineer, studied options to improve ditch drainage water quality in the Mid-Atlantic, and has done research on drained dairy pastures as a Fulbright Fellow in New Zealand. She is affiliate faculty in the Department of Agricultural and Biological Engineering, and is a licensed professional engineer in the state of Illinois. Dr. Christianson was awarded the American Society of Agronomy's Environmental Quality section 2018 Inspiring Young Scientist Award and the ASABE's Larry W. Turner Young Extension Professional Award in 2020.
Staff
Ronnie Chacon began his role as I-DROP's Field Research Specialist in April 2019. He is a 2018 graduate of Zamorano University in Honduras. Ronnie is responsible for day-to-day field operations including coordinating staff and students, collecting data from field sites across the state, maintaining a wide variety of sampling equipment and data loggers, and data processing and analysis.
Michael Wallace oversees the I-DROP Water Quality Laboratory and assists with in-house lab operations. He joined the lab in March 2020 with more than twenty years of experience in the field of water quality and applied research in Illinois.
Kristin Greer is a Senior Research Specialist with emphasis on agronomy and environmental quality. She joined the I-DROP Lab in April 2020 after having worked in crop production and nutrient management research for almost twenty years. She is a University of Illinois graduate, managing field research experiments and day-to-day soils lab operations in coordination with graduate students and other lab members to ensure project goals are met in an efficient and timely manner. Outside of work, she farms approximately 600 acres of corn and soybeans with her husband. Her primary I-DROP activities involve the Dudley Smith Farm and associated projects.
Postdoctoral Associates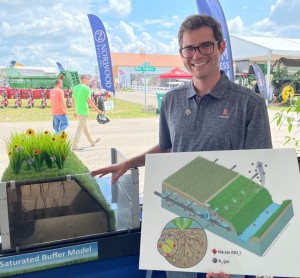 Dr. Luciano Alves has been performing research on water quality in agricultural systems for 10 years with a particular emphasis on modeling and remote sensing technologies for managing and monitoring water and the vadose zone. His current research areas are on the role of vadose zone and water resources at agricultural systems, vulnerability and risk assessments, automation, and environment, focusing on techniques of computation processing and machine learning. He has a passion for teaching, with experience in teaching middle and high school, college-prep, undergraduate, and graduate students. He started with the I-DROP Lab in May 2020.
Dr. Carolina Díaz García joined the I-DROP Lab in April 2021. She is a Civil Engineer, and she did her PhD at Universidad Politécnica de Cartagena in Spain (spring 2021) about denitrifying woodchip bioreactors for treatment of saline agricultural effluents and brine. Dr. Díaz García will be managing and helping to lead the multi-state NRCS Conservation Innovation Grant focused on bioreactors and saturated buffers.
Visiting Scholars
Graduate Students
Niranga Wickramarathne joined the I-DROP team in September 2017 as a staff researcher after completing her M.S. in Natural Resources (emphasis on water quality) at the University of Missouri-Columbia. In June 2018, she transitioned into her PhD program where she is focusing on denitrifying bioreactors. She holds a B.S in Agricultural Sciences and Management from Sabaragamuwa University in Sri Lanka and a M.S. in Crop Science from the Post Graduate Institute of Agriculture, University of Peradeniya, Sri Lanka. Niranga served as the teaching assistant for the initial offering of Dr. L. Christianson's CPSC 417: Water and Agriculture in the 21st Century.
Undergraduate Assistants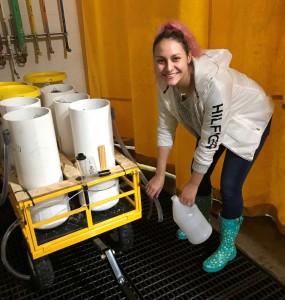 Jazmine Rodriguez joined the I-DROP Lab in January 2019 and helps with key processes pertaining to quality control of our water samples. She is a 2018 graduate of Oakwood High School. She is pursuing a Psychology degree at the University of Illinois.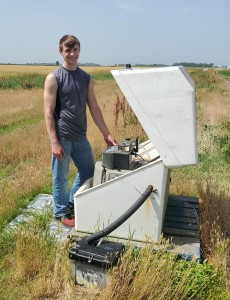 Anthony Grimes is an undergraduate at the University of Illinois who joined the I-DROP Lab in summer 2022. He primarily assists with field projects and water, soil, and plant sampling and analyses.